Drinks
Amsterdam's Best Cocktail Bars for the Cozy Season
Warm up this fall and winter with these six hot spots that serve the highest quality mixed drinks in town.
Bar Oldenhof
A pulled curtain and closed door are the first signs that you've arrived at Bar Oldenhof in Amsterdam's Jordaan. This speakeasy, however, lacks all the pretentiousness that usually comes along with these trademarks of privacy. The staff at Bar Oldenhof is always hospitable and sometimes even apologetic when its tables are full and a line starts to form outside. Once within, the service only gets better as staff takes your coat and offers to walk you through any of its excellent cocktails, or even to create a custom one. What we might just love most about Bar Oldenhof is that it's one of the few bars anywhere that feels just as good to be in when the space is empty as when it's full. Some one-on-one time with the bartender? Yes, please. Go close to opening hours, Thursday through Sunday, for this special experience.
See this restaurant on our

search page >
Twenty Third Bar
Feel transported with a visit to the aptly named Twenty Third Bar, located on the 23rd floor of the Hotel Okura. While the bar might be based within Amsterdam's bustling De Pijp district, entry to the large luxury hotel will have you thinking you're in metropolitan Japan within minutes. An elevator ride up to the spot itself invites you to enter jet set mode (where you'll find both impeccable service and also a fair dose of stylish clientele), and opens up to some of the best views of the city. As a strong bonus, the bites served at Twenty Third Bar come from the same kitchen as the much acclaimed Ciel Bleu restaurant next door, so you can get a taste of the starred entity's cooking at a small fraction of the cost and time commitment. Open daily, this is the perfect spot to celebrate a triumph or to reconnect with your international self, if even for a few hours.
See this restaurant on our

search page >
Vesper
Perhaps one of the truest Amsterdam cocktail bars, Vesper has been greeting guests with a warm hello and a serious set of liquid concoctions for the past decade. The bar fits right into the neighborhood with its corner, street-level location. Its many windows and (if the weather's right) open door beckon to those who walk by as well as those who make the special trip over. Inside, it's almost always a party, for patrons seem to be as excited about Vesper's unique, quality cocktails as its ownership is. Right now, indulge in Vesper's "Amuse Booze" drink concept that nicely melds both foreign and familiar flavors. The bar is currently open on weekends—Fridays and Saturdays only—so plan your visits accordingly.
See this restaurant on our

search page >
Lotti's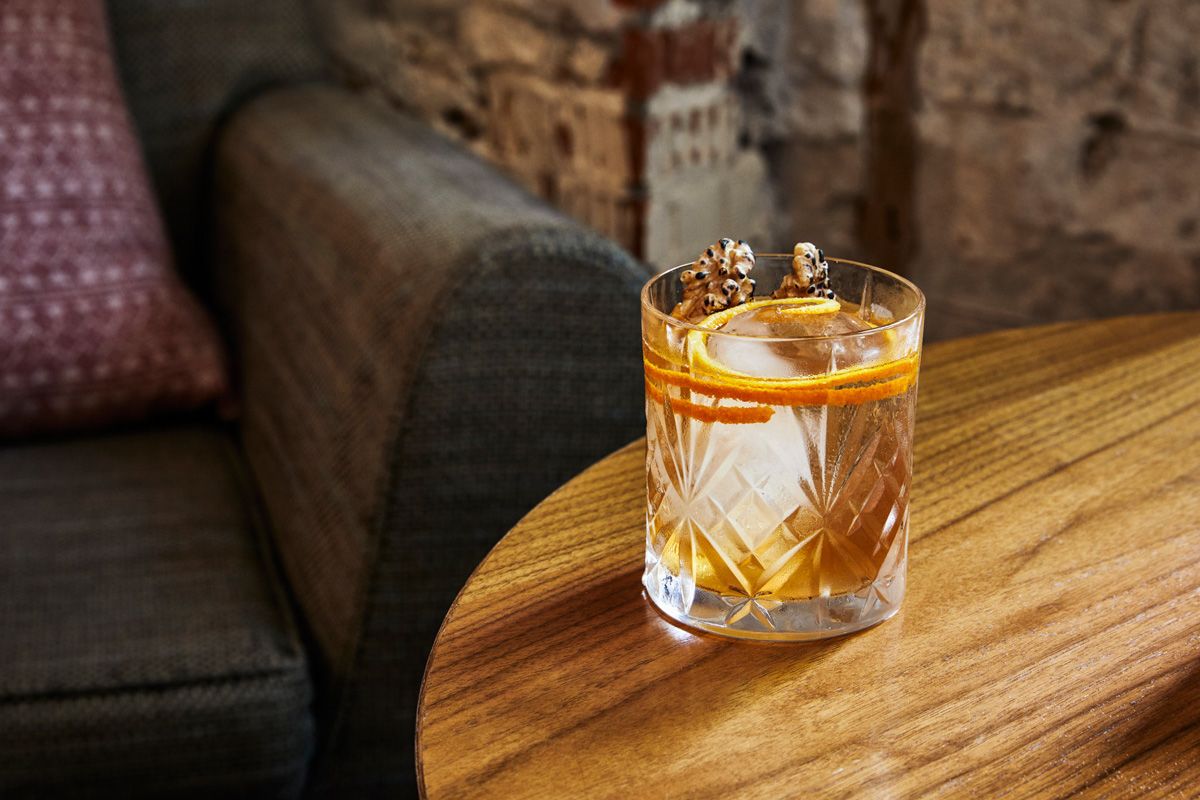 Since Amsterdam's Hoxton Hotel opened around 2015, its Lotti's bar has been a great place to meet with colleagues, friends, or new acquaintances. Back then, it was one of the only hip hotels in town, and also one of the first locations to ignite an international cocktail culture for locals and expats living in the city. Today, Lotti's warm yet open-space design is just as welcoming and current. Its innovative yet manageable cocktail offerings provide something for everyone, and keep your conversations going. Find the lounge bar on any day of the week upon entering the hotel from Herengracht, within Amsterdam's Nine Streets area.
See this restaurant on our

search page >
Hiding in Plain Sight
On a nondescript corner not far from Amsterdam's central station, you'll find HPS literally hiding in plain sight. "Is this it?" is usually what someone in any drinking party asks upon approaching the bar for the first time. "Yes, should be it," is then likely the answer. HPS takes its cocktails seriously, so take your time perusing its detailed menu to find the perfect line up for your evening, since one drink at HPS is almost never enough. The service here is wonderful, and the crowd is always interesting and well behaved. Find the spot from Tuesdays to Sundays, 18.00 until closing.
See this restaurant on our

search page >
Flying Dutchmen Cocktails
Flying Dutchmen is excellent for a cocktail, and even better once you know the concept behind it. Walk into the historic building on Amsterdam's Singel and order from its list of classic selections. Or, engage with the bartender to get something completely unique and perfectly to your taste. Either way, you'll wind up with the best, as Flying Dutchmen exists to take the Dutch cocktail scene to new heights, and you as a drinker along with it. Founded by acclaimed beverage professionals Tess Posthumus and Timo Janse, it's the bar's ethos to elevate local cocktail culture by creating a strong foundation around how to make and drink the originals. An excuse to learn while doing? We'll take it. Head their way any evening of the week and work your way up to those off-menu offerings.
See this restaurant on our

search page >
Rethink what makes restaurants great.
Dine consciously with core values that make meals meaningful. Learn more >