Dinner · Takeaway · Delivery
8 Epicurean Meals for a Festive December
Make the most of a Christmas at home with these impressive, multi-course dinners.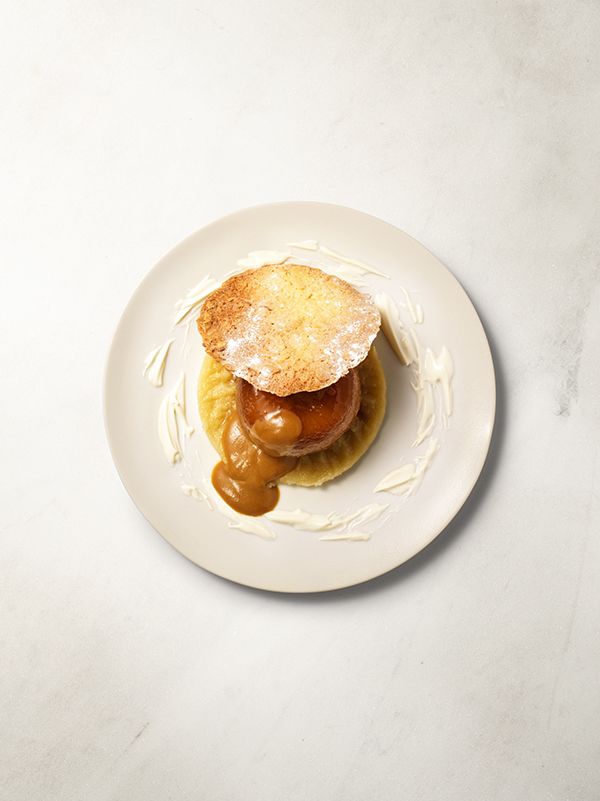 Rijsel
Rijsel's vision is precise and unique— mainly, to serve only the highest quality French food but with an informality that's both inclusive and community oriented. Well known for its Sunday meals and more recently, for the in-house butcher's shop that it started due to popular demand, Rijsel is the type of restaurant that you can trust to carefully craft your hearty, holiday dinner. With a six-course Christmas menu, Rijsel is also adding a touch of luxury to its offering with special ingredients and the "extras" you'd expect while dining in person. The starter—a terrine of lobster, pike perch, caviar, and leek with tarragon-chervil coulis—sets the tone for this lavish meal. The menu ends with a gâteau Opéra with pistachio, leaving us with only one question: how will we ever go back to cooking our own Christmas meals? Place your orders on or before December 17th for pick-up from December 24th to December 26th. (Vegetarian menus are also available!)
See this restaurant on our

search page >
Bar Alt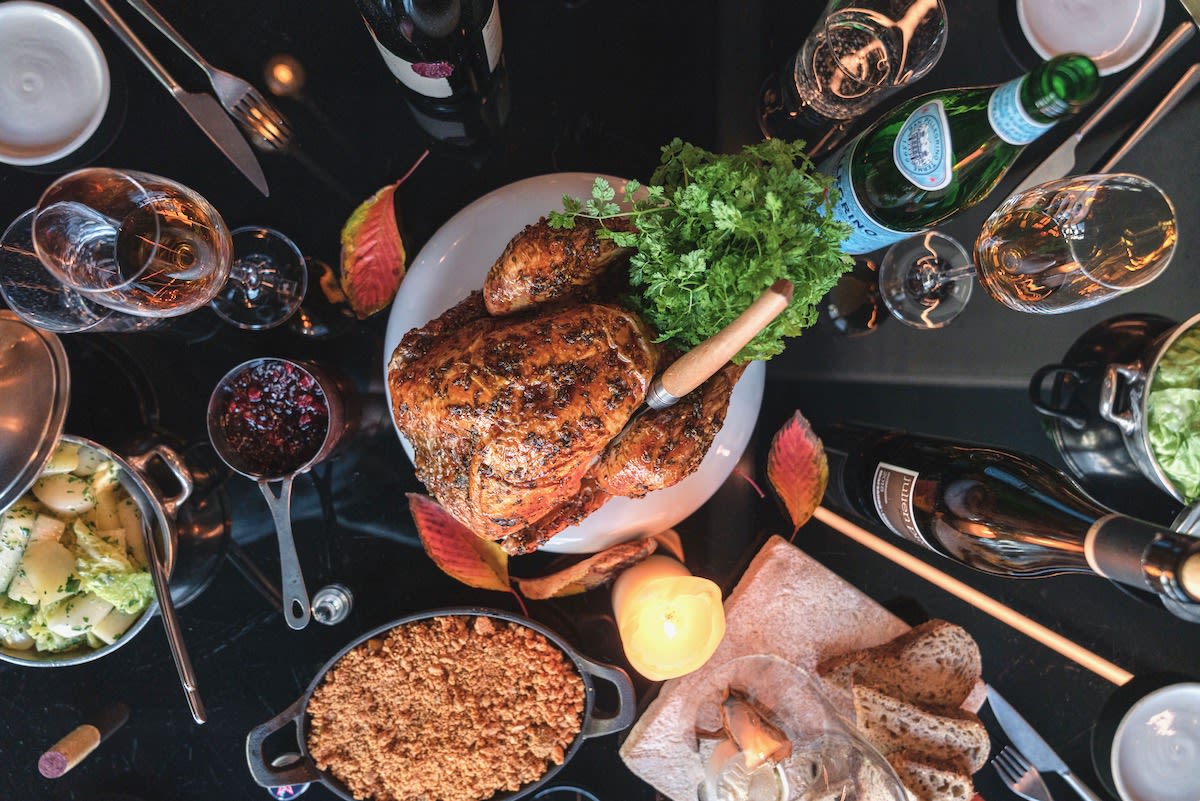 The perfect marriage of a talented kitchen and enthusiastic beer brewers, Bar Alt is known for its ability to pair fantastic food to equally fabulous beers. The same applies for Bar Alt's three-course Christmas menu, available for pick-up or delivery from December 24th to December 26th, making it a great festive choice for beer loving foodies. We've got our eyes set on the pumpkin crumble, but the main dish of smoky beef with creamy polenta and winter vegetables promises to be a family favorite. A vegetarian option is also available and, knowing Bar Alt, the celeriac steak will be just as enticing. Alternatively, if you've been feeling nostalgic for a home cooked turkey, Bar Alt is offering a multi-course, whole turkey dinner that can be finished at home within 60 minutes. Don't worry— it has all the trimmings. Just don't forget to add the special beer pairings or a mixed six pack from the restaurant's own Two Chef's Brewery.
Daalder
Chef Dennis Huwaë's vision for a fine dining restaurant with a cool and welcoming atmosphere was brought to life with Daalder. While the bold experience of Daalder in person isn't possible, Daalder's at-home boxes have been bringing us the quality and creativity that come close. This holiday month, they're offering "Christmas with Daalder", a five- or eight-course fine dining experience with optional wine pairings. Complete with unique takes on favorites like pumpkin ravioli with black truffles and potatoes and Brussels sprouts as a complement to barbecued cauliflower (in the vegetarian option), Daalder hasn't skipped a beat. We're also sure that we won't need to sing the praises of its sticky toffee dessert... Already available, pick up your holiday meal from Wednesdays to Sundays this December.
See this restaurant on our

search page >
Zoldering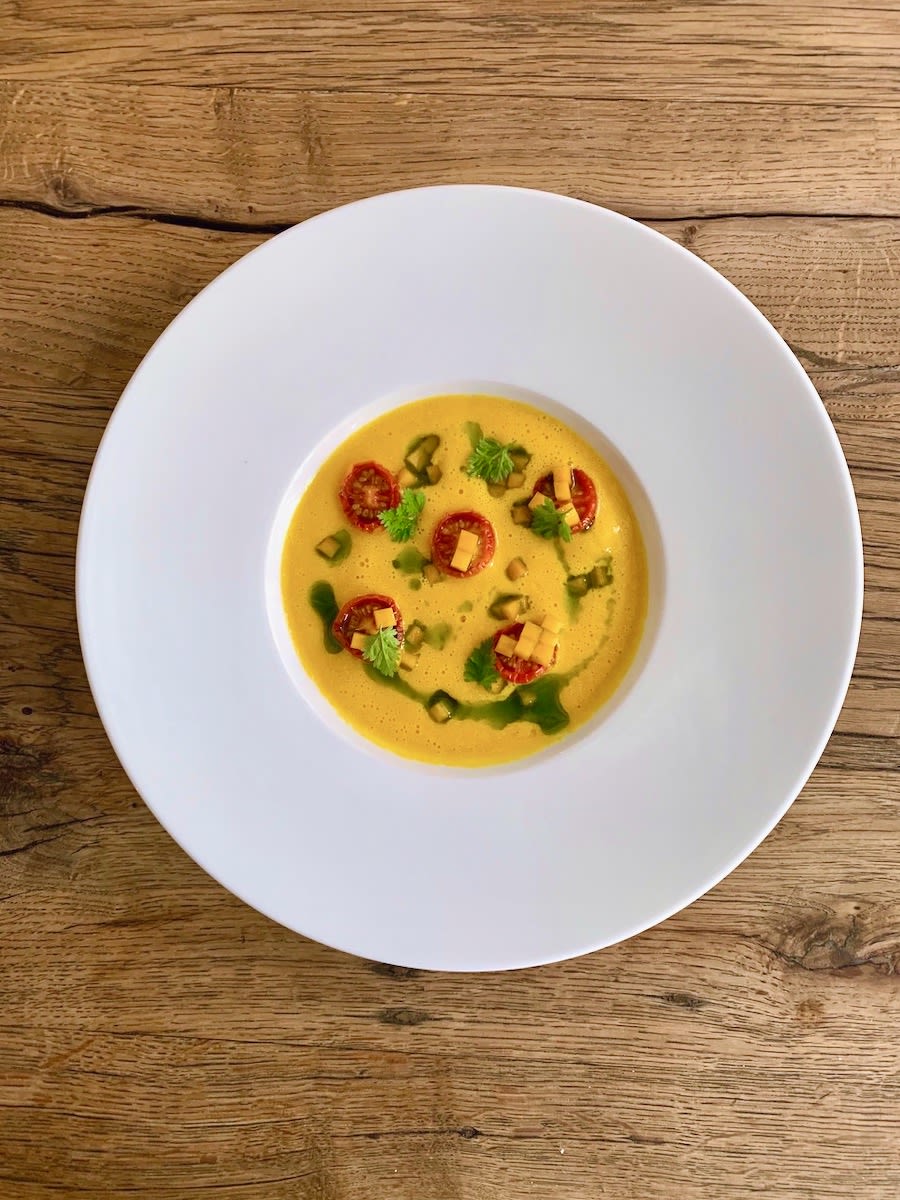 Zoldering was built on the premise of serving good food and fine wines in a cozy place. No unnecessary frills— just you, your taste buds, and some kindred spirits. The "Zoldering for Home" Christmas box comes with the same promise: that you'll feel just as taken care of by the restaurant's team as usual. Its four-course, chic Dutch menu is made for you to be able to easily prep and serve a rich, wintery meal at home, complete with a quick instructional video. The courses are built around refined, warming dishes such as kohlrabi with bergamot (within the vegetarian version) as well as more traditional offerings such as the roleau (featured within the main menu), and the meals can be expanded to include charcuterie, caviar, cheeses, and even champagne. Per-person orders can be placed until December 22nd, with pick-up available from Zoldering between 11am and 2pm on December 24th and December 26th. [Pictured here: a starter soup from Zoldering's current takeaway menu.]
See this restaurant on our

search page >
Restaurant de Voetangel
Restaurant de Voetangel is an ideal restaurant to pick up from for the quick yet idyllic drive south of town to retrieve it. From its Ouderkerk location (that's existed since the 17th century), you can get a real feel for this long-standing, Dutch family business. The four-course, Voetangel Christmas dinner comes with several options, and how anyone can select from the Bisque d'Homard (lobster soup with cognac cream) and the Wildbouillon (game stock with forest mushrooms) is beyond us. Keep in mind that each order will come with a few traditional extras as well as a signature potato gratin and stewed pears. You can order your meal for takeaway from December 22nd to December 26th, with final orders needed by December 23rd. With little effort and a great experience, you'll be able to comfortably serve this Christmas dinner from the Voetangel's Leurs family to yours.
See this restaurant on our

search page >
Otto Volante
In partnership with Bar Centraal and its sister natural wine bar Glou Glou, the ever local and organic Otto Volante is creating a four-course Christmas dinner for you to enjoy from home. The meal starts off with Glou Glou's appetizer of bread with goat butter, a chestnut spread, and cheeses, followed by unique, fusion-inspired vegetable dishes from Bar Centraal as well as Otto Volante's equally special main course of Dutch staples with flair. Dessert is a Bar Centraal and Otto Volante collab of dark chocolate, caramelized pear, pecan cream, and cranberry. A vegan Christmas dinner is also available, and both meal options include two bottles of natural wine. Order for pick-up on December 24th or 25th.
See this restaurant on our

search page >
Café Caron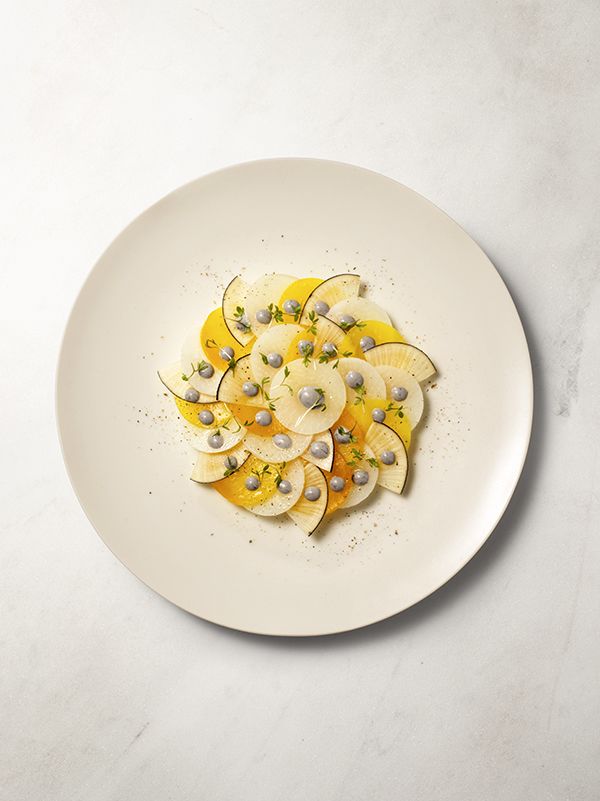 Following the success of "Caron à la Maison," we look forward to Café Caron's creation of holiday, at-home dining experiences with its refined French menu. The café's Christmas packages will be prepared by the family's meticulous team and then made easy to serve with virtual assistance from Chef Alain. You can choose from two Christmas packages— the "Plateau Apéritif" for wine and an ample medley of serious snacks, or the four-course "Christmas with Caron" option that includes a dish of smoked salmon [pictured here], cauliflower soup, beef shoulder, and elegant apple "rôti." These meal boxes are available for delivery between December 15th and December 30th; and, as they can keep for three days in a cool temperature, we'd suggest ordering both and extending the cheer where possible.
See this restaurant on our

search page >
BAK and Kaagman & Kortekaas
Table Sage-recommended BAK and Kaagman & Kortekaas have partnered with three additional stars of the Amsterdam dining scene to bring you "Take Five", an unforgettable, do-it-yourself holiday dinner experience. Each restaurant will prepare one dish in this five-course Christmas special, and then each chef will walk you through how to prepare their course for maximum efficacy and delight. With all five of these restaurants on your dining table, you can be sure that your meal will be unmatched. The packages will be available for pick-up on December 24th from Hotel de Goudfazant, and are meant for same-day dining. [Note: Although the Take Five holiday dinners were sold out by the time of publishing, the individual restaurants each have further offerings— see their media for more information!]
Search for these restaurants on our

search page >
Rethink what makes restaurants great.
Dine consciously with core values that make meals meaningful. Learn more >