Outdoor dining
7 Amsterdam Terraces You Won't Want to Miss this Spring
Dine outdoors and soak up the sun while supporting local restaurants.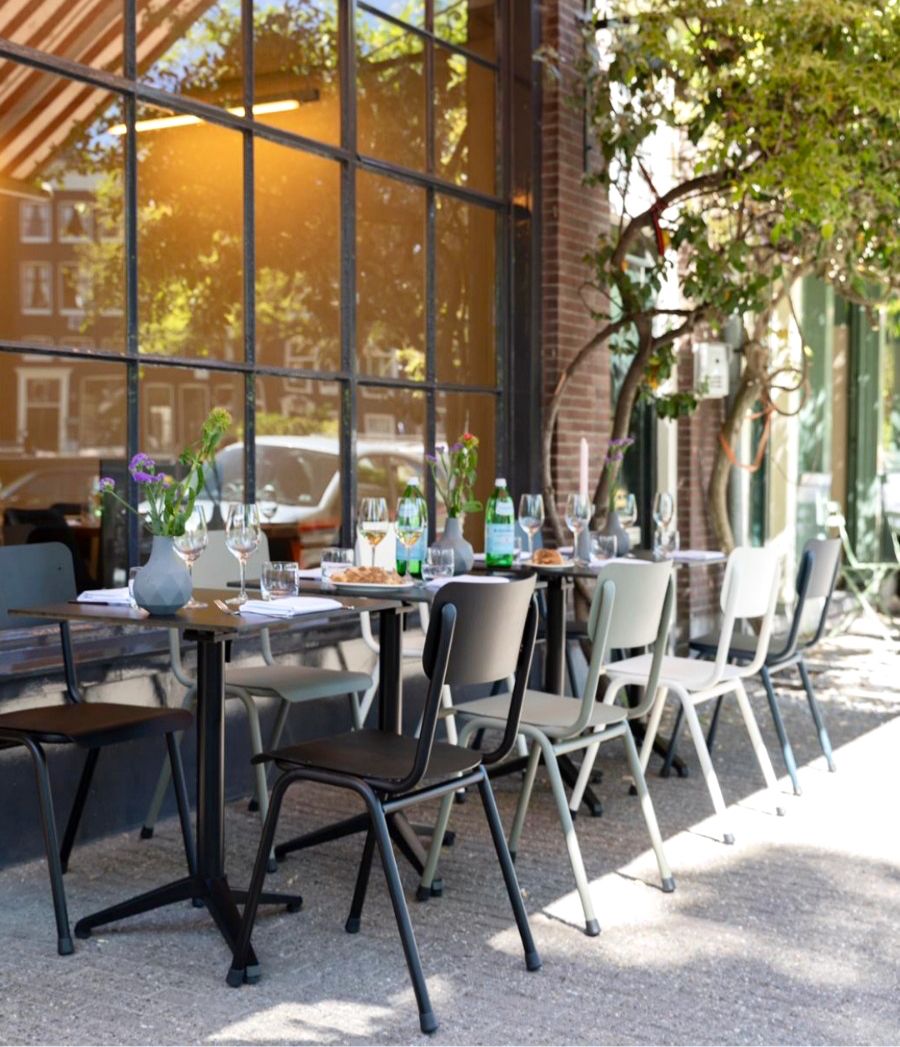 Hotel Buiten
While Hotel Buiten makes it clear that it's not a hotel, the café does see to it that its guests enjoy their culinary stay. Built from recycled materials, Buiten's dual-level terrace allows visitors to have a beautiful view of Sloterplas beach and park while enjoying simple dishes or drinks. The community organization behind this location also prioritizes the environment and healthy eating by reducing its CO2 emissions where possible, and supporting local producers along the way. Head to the Nieuw West district on any day of the week for a meal and more at Hotel Buiten— its menu of crowd pleasing and feel-good offerings will surely hit the spot.
See this restaurant on our

search page >
Binnenvisser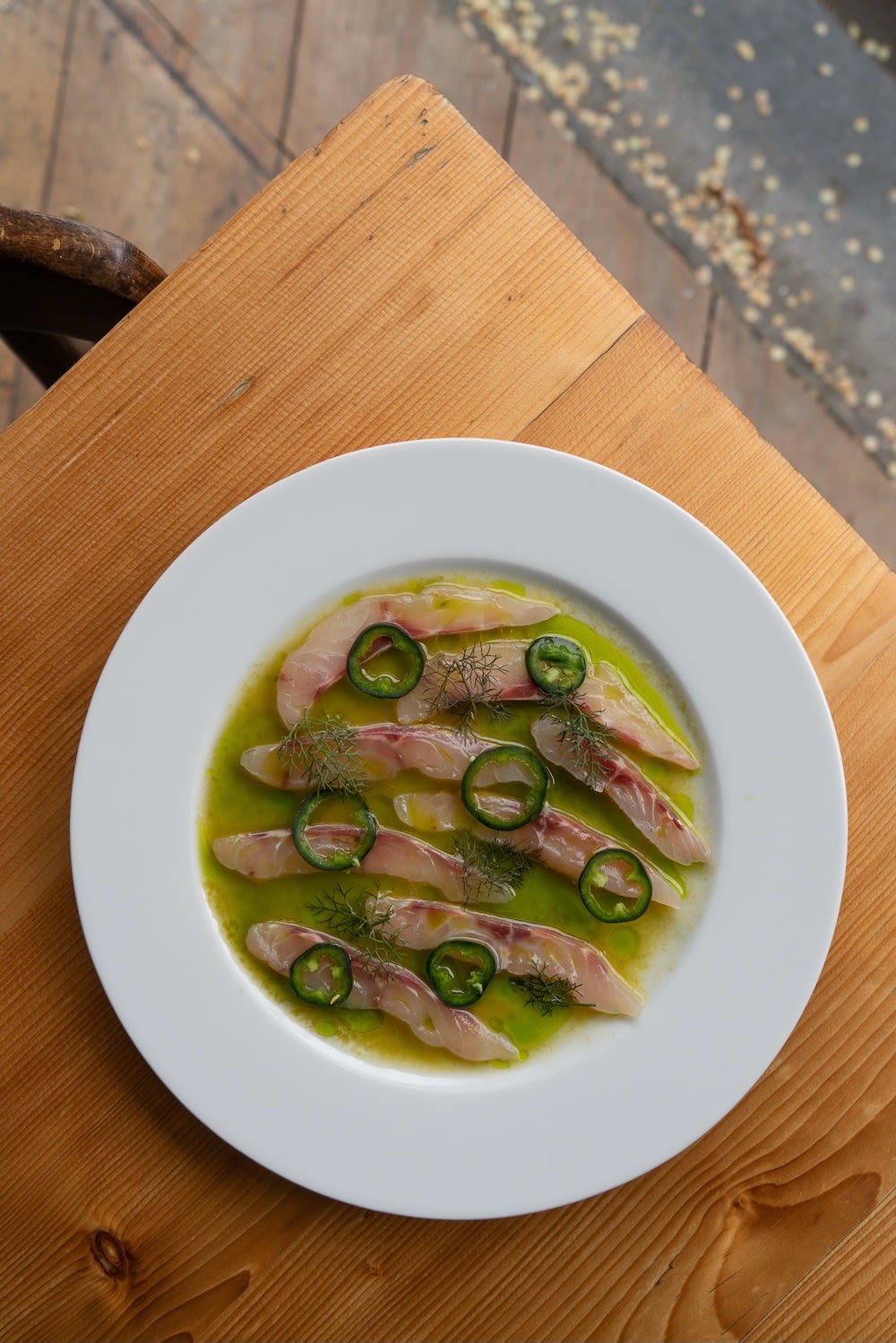 Binnenvisser's cool neighborhood vibe has only grown stronger with the addition of outdoor dining to its operations. Located on a beautifully green and lively corner, Binnenvisser serves seasonal Dutch-influenced and other Pan-European small plates, plus (natural) wines and beers from a menu that changes weekly. Weather permitting, terrace seating is open every day for dinner and drinks, sans reservation, so head to Oud West for its often plant-forward cuisine and a breath of fresh air. A small bonus that we love: views of the café's beautiful stained glass windows are just as nice to gaze at from outside.
See this restaurant on our

search page >
De Belhamel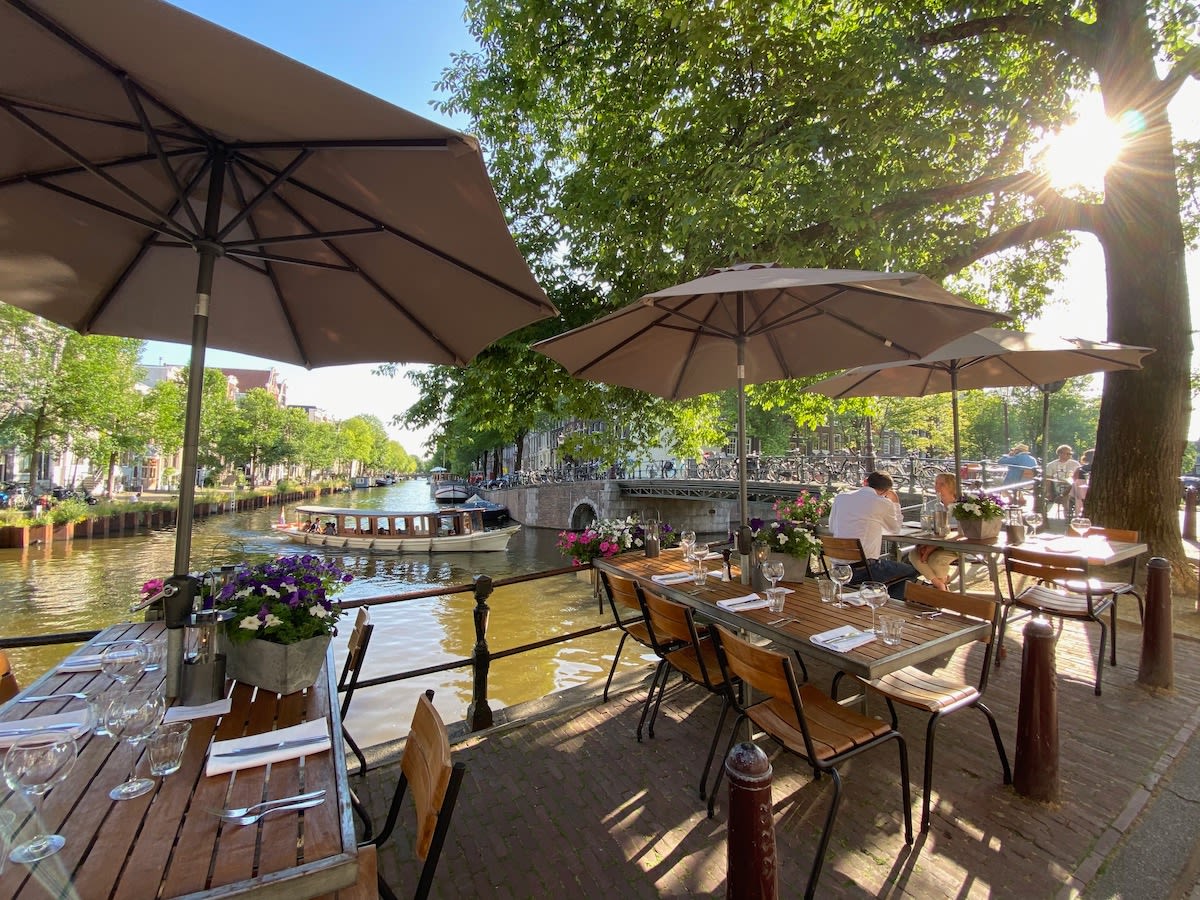 De Belhamel is a classic Amsterdam restaurant with over 20 years of experience in providing charming, canal-side dining experiences. While its interior is reminiscent of fin de siècle Paris, its quiet waterfront terrace welcomes the public with a quintessentially local atmosphere. Soak up the sun while indulging in refined takes on its Dutch, Belgian, and French traditional cuisine. De Belhamel is open seven days a week for lunch and dinner, with terrace reservations available for up to three months in advance. Find the restaurant in the Jordaan, at the Brouwersgracht.
See this restaurant on our

search page >
Pikoteo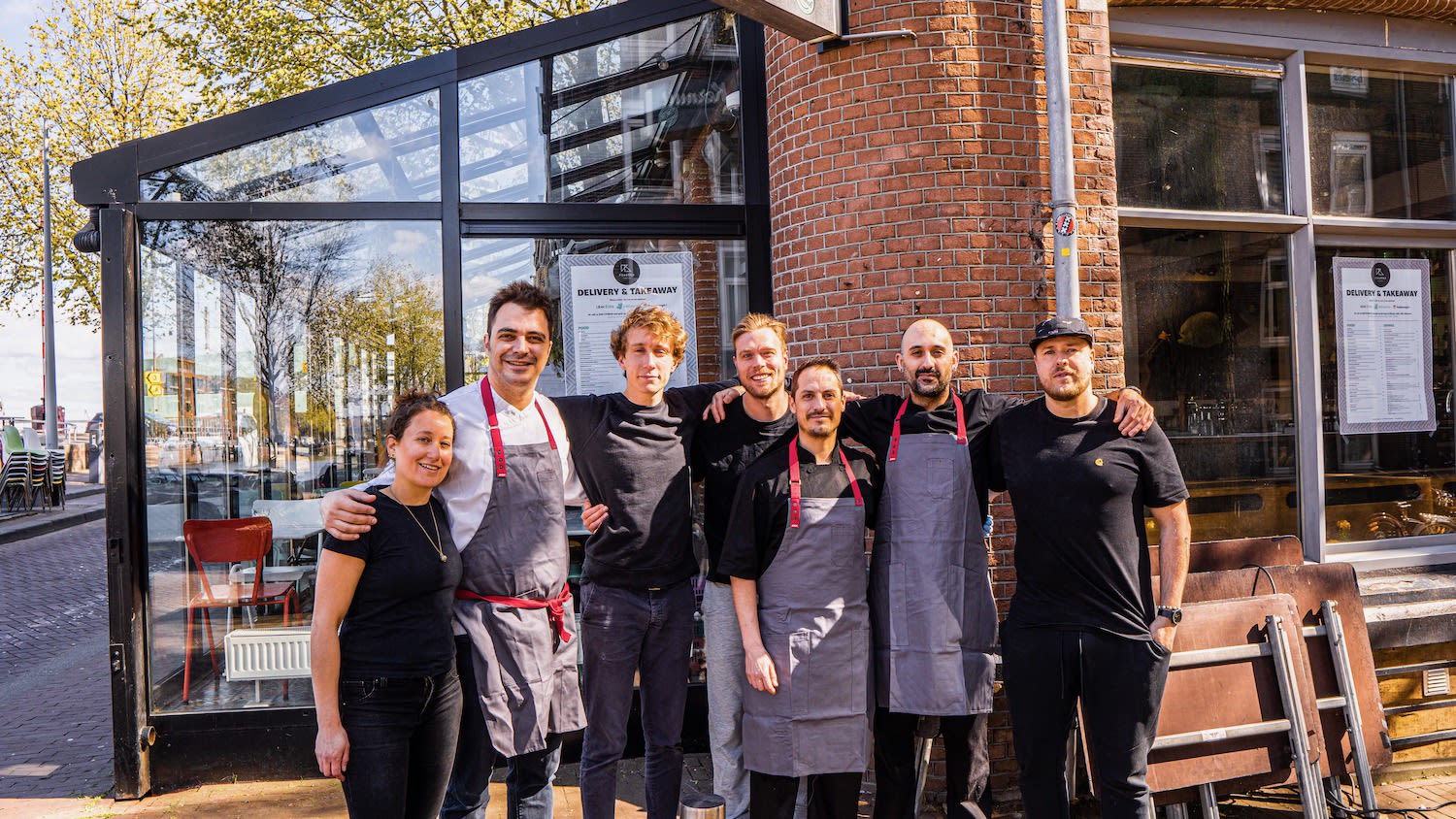 Pikoteo's reputation as a fun place to enjoy great food prevails as it opens its terrace to outdoor dining. Enjoy the colorful, urban vibe of the corner location while sampling any number of small plates and drinks on this patio, not far from Centraal Station. Take your time and choose from a wide selection of vegetarian or fish- and meat-based dishes inspired by traditional Spanish dishes fused with flavors from Southeast Asia. Here, terrace tables are open for dinner from Wednesday to Friday, and for lunch as well on weekends. Raining? You can still opt for takeaway or delivery (including beautifully bottled cocktails!) from this Westerpark area spot to get a taste of all that Pikoteo has to offer.
See this restaurant on our

search page >
Domenica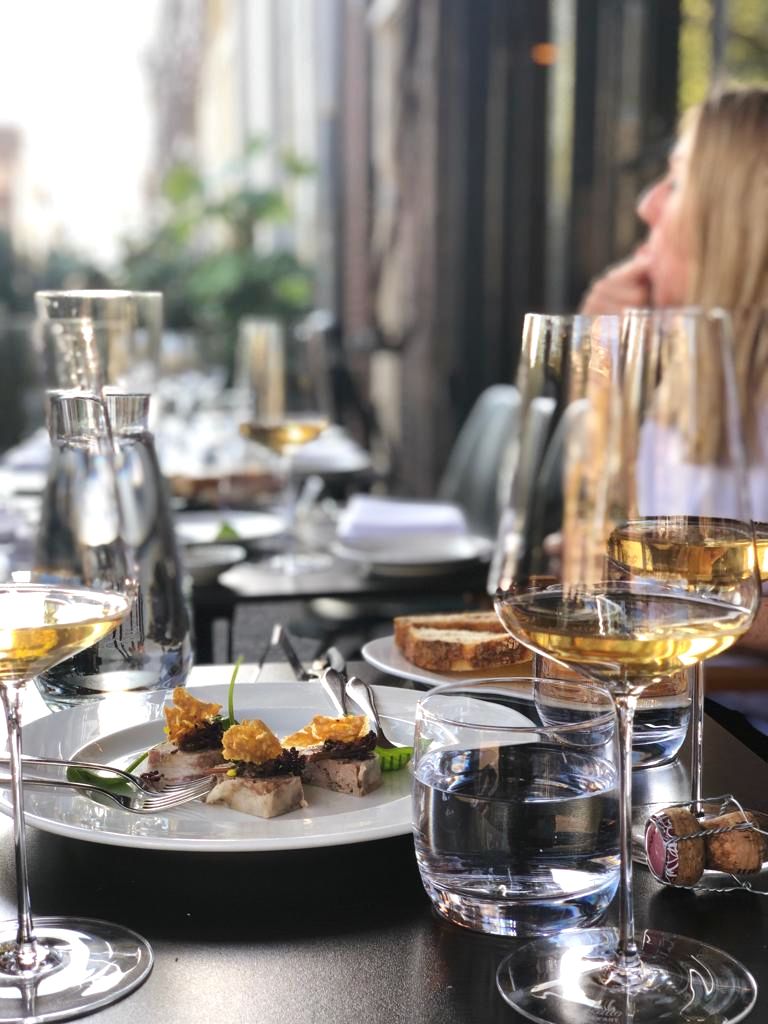 Domenica—"Sunday," in Italian—is an upscale, traditional restaurant committed to creating quality culinary experiences. Nestled beside Noordermarkt, its terrace allows customers to enjoy relaxed weekend vibes outside, throughout the week. At Domenica, menu options are inspired by and reliant on seasonal products that lead to evolving selections that'll keep you coming back for more. Pair dishes with an impressive selection of Italian wines, or choose from other old world offerings. Domenica's terrace in the Jordaan is open for lunch and dinner, from Tuesday to Sunday.
See this restaurant on our

search page >
Bar Centraal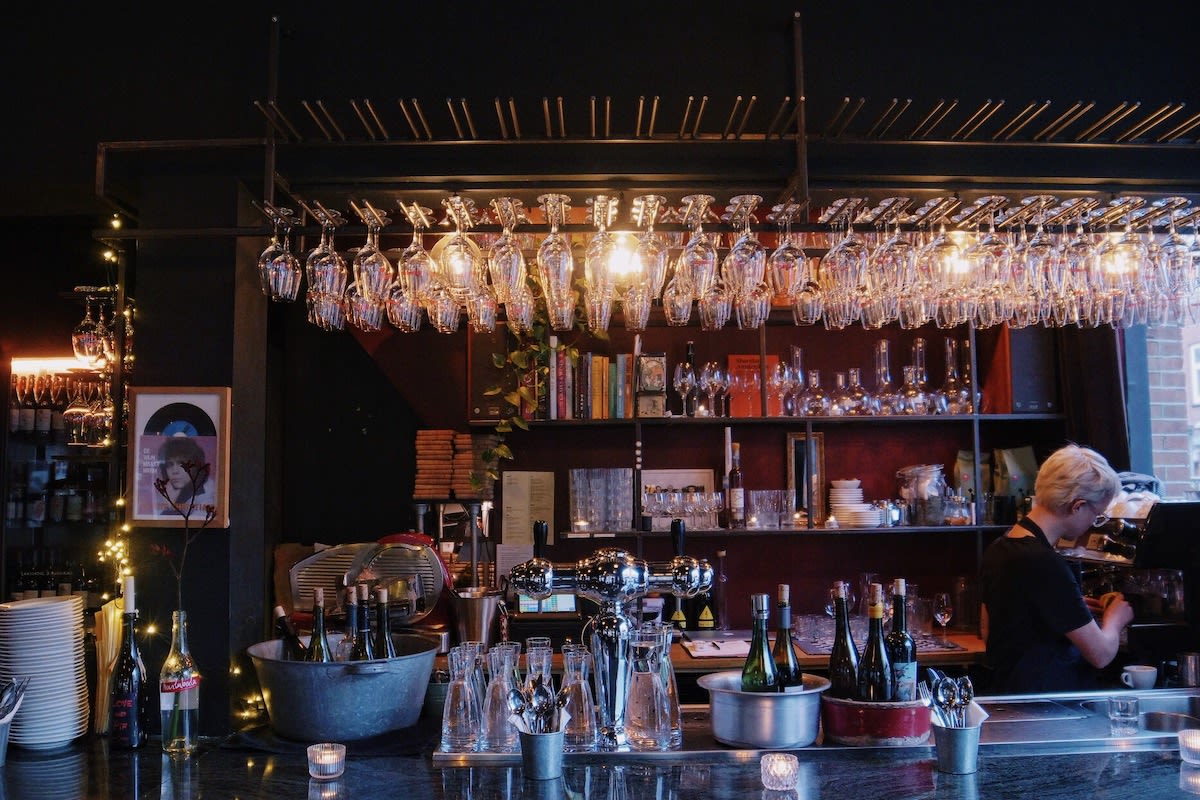 As one of the first natural wine-based gastrobars in Amsterdam, Bar Centraal's commitment to equally interesting and quality ingredients is on full display as it opens its terraces for outdoor dining. Centraal's carefully curated menu features excellent small plates of international cuisine with an emphasis on creative and vegetarian friendly fusion dishes, plus local fish and meat where they pair best. Enjoy the now brilliantly sunny, outdoor atmosphere amid an urban setting while sipping natural wine with lunch or dinner. Bar Centraal is located in Oud West and is open Wednesday through Sunday for terrace reservations.
See this restaurant on our

search page >
Renato's
Renato's Vondelpark offers ultra satisfying pizza squares in one of Amsterdam's sunniest locations. Here, the historic (and recently renovated) Blauwe Theehuis terrace is not only the city's largest but also surrounded by abundant green space that makes it a great place to go with family or friends. Select from small or large, classic or vegetarian based pizzas, and get ready to share the goodness. Of course, as this location is in partnership with the local brewery Brouwerij 't IJ, don't forget to add a cold one where applicable. This Renato's terrace is open practically all day, every day for your maximum enjoyment, so get out there while the weather holds!
See this restaurant on our

search page >
Rethink what makes restaurants great.
Dine consciously with core values that make meals meaningful. Learn more >