Sustainability • Plant-focused • Veg-friendly • Takeaway • Delivery
6 Sustainable Eateries for a Revitalizing New Year
Start 2021 off right with these healthy, ethical, and plant-forward restaurants.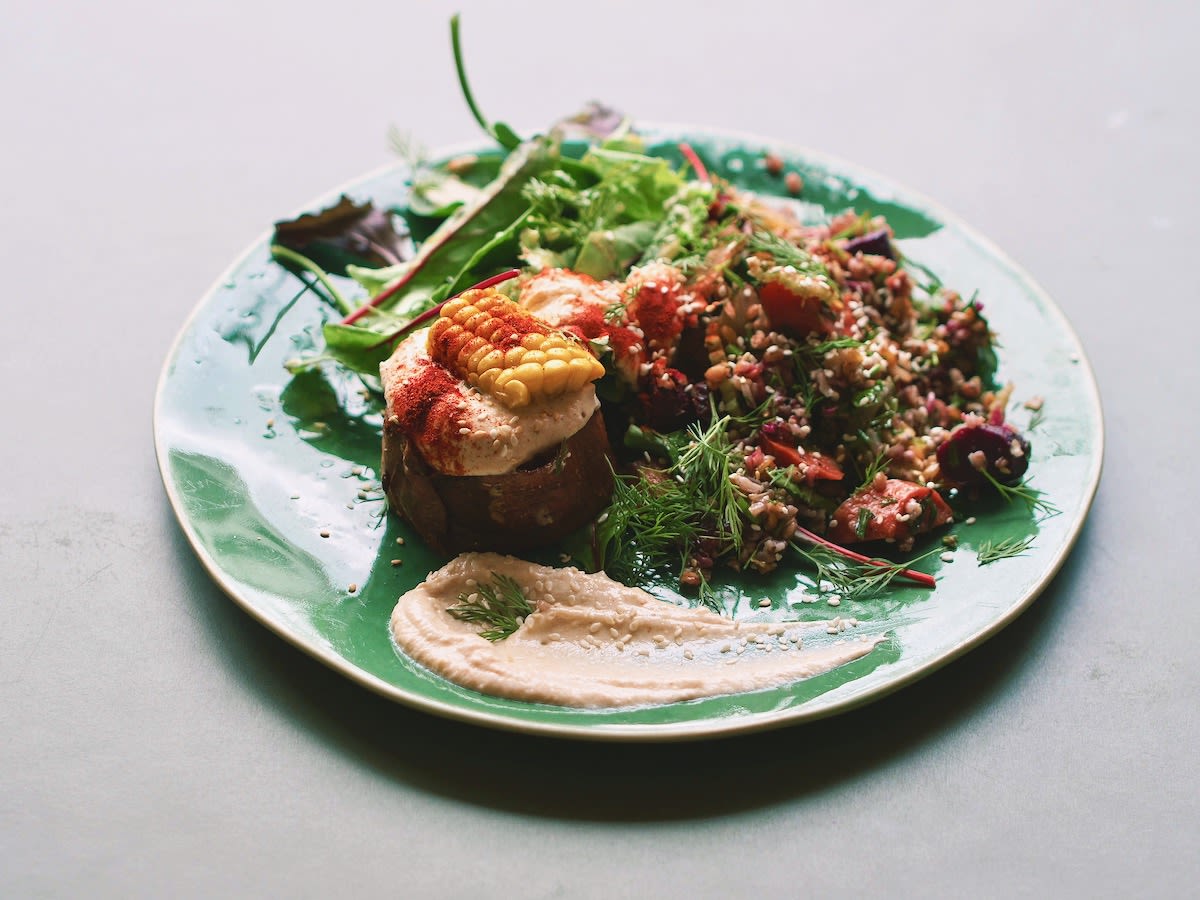 Morris & Bella
The owner and chef duo-couple behind Morris & Bella forged a new path for Amsterdam's dining world when they started this plant-forward, sustainable restaurant. Focusing on the diners that most often have to venture to specialized restaurants to have their needs met, their menus were among the first to be built around vegan dishes to suit multiple lifestyles, rather than offering separate dishes for each eater type. Using organic and locally produced food, Morris & Bella have also inspired us with their continued emphasis on limiting waste while adapting their services to current changes and restrictions. As a result, they serve as an example of how hard many restauranteurs are willing to work to remain ethical, no matter the challenges presented. We look forward to mid-January, when the duo returns from a short break to once again offer their vegan menus—with possible supplements of fish, meat and cheese—for takeaway.
See this restaurant on our

search page >
Sir Hummus
Hummus is a staple of any healthy period, and a staple all year round for self-proclaimed hummus addicts Guy, Dori, and Lior, the team behind Sir Hummus. They grew up in Jerusalem, where their weekly treasure hunt for the absolute best hummus often led them to unassuming Hummusiyas hidden away in alleys. Sir Hummus owes its divine, fluffy, made-fresh-daily hummus to its careful, 24-hour cooking process and its selection of the best quality ingredients to maintain the integrity of hummus as a superfood. With a focus on bringing the authentic hummus experience to Amsterdam, it not only serves its hummus as a main dish, with succulent toppings, crisp salad, and fresh pita bread, but also makes sure that this staple food is accessible and affordable, reminding us that sustainability is for people as well as for the planet. Sir Hummus will be re-opening on January 6th, with pick-up or delivery available Wednesday to Saturday from 12:00 to 20:00, and on Sundays from 12:00 to 17:00.
See this restaurant on our

search page >
Golden Temple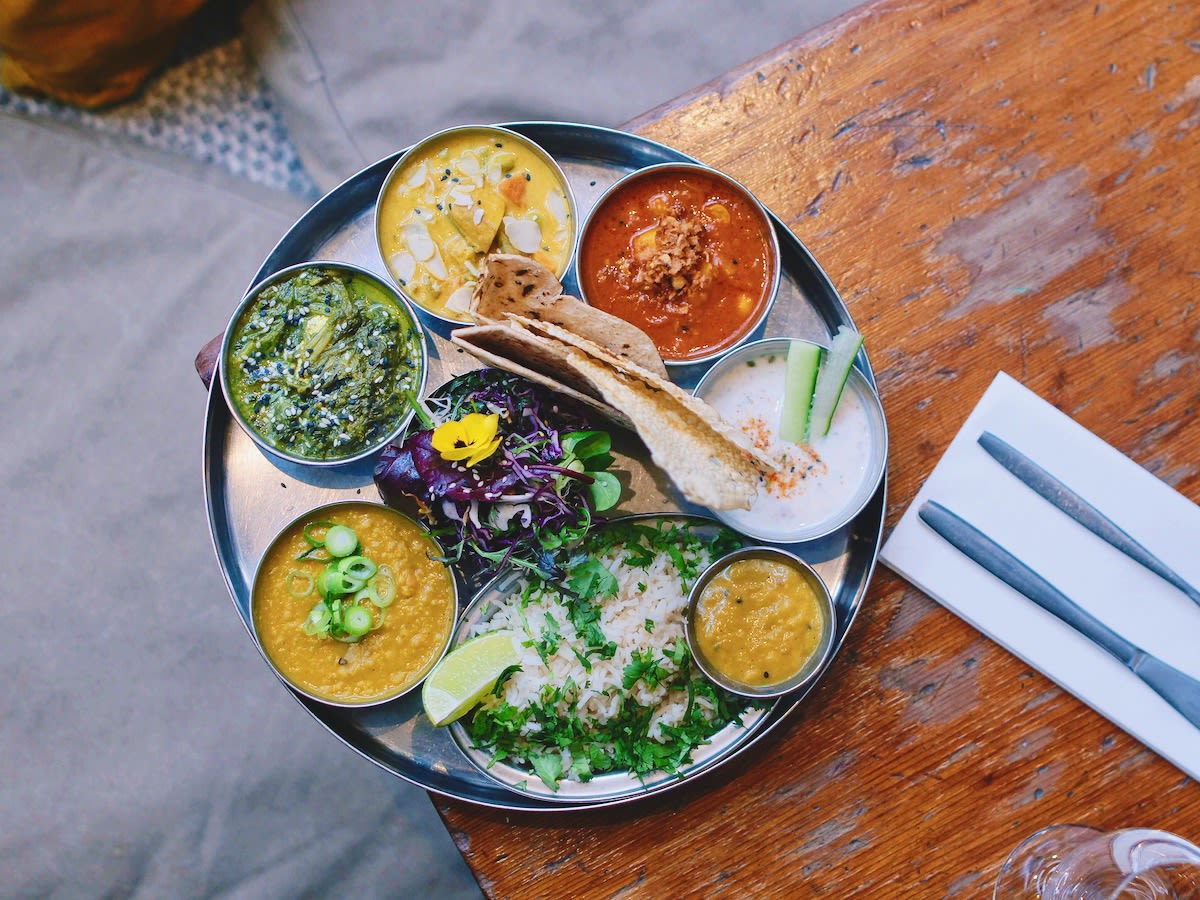 As the oldest vegetarian restaurant in Amsterdam, Golden Temple is a veteran in creating food that's good for its community in every sense of the word. Golden Temple's staff is warm, friendly, and diverse— a testament to its ethos of welcoming people from all backgrounds. While we can't wait to sit down with the Golden Temple team in person again, we'll be warming ourselves with its soulfully crafted menu this New Year. With no meat, fish, or eggs in its recipes, Golden Temple adapts its range of mostly Indian, Mexican, Japanese, and Vietnamese meals to meet your body's needs as much as possible, grounding the vegetarian lifestyle in a practical creativity. The chef's menu for two is a great way to try out some Golden Temple favorites, with a mix of appetizers and a thali offering a range of Indian curries. You can order via the Golden Temple website for pick-up from Monday to Sunday between 16:00 and 21:00, or for delivery between 16:30 and 21:00.
See this restaurant on our

search page >
Beter & Leuk
Beter & Leuk's mission is to empower you to lead a healthier, more sustainable lifestyle both inside and outside of the kitchen. It's this holistic approach to sustainability that inspires its curated range of clothing, art items, books and more, sourced from sustainable partners and on display in its café. While it currently can't nourish your wardrobe or bookshelf, Beter & Leuk can still nourish you with its super-satisfying vegan meals and treats. With almost everything made from scratch using organic ingredients, it guarantees a fulfilling vegan experience that both your body and the planet will thank you for. Takeaway and delivery are available Monday to Friday from 11:00 to 20:30 and Saturday to Sunday from 16:30 to 20:30. [Note: Beter & Leuk will transition to Bataat as of January 2nd!]
Juice Brothers
It wouldn't be a new year without a rejuvenating juice cleanse. Juice Brothers was founded on a simple premise: providing people with juice in its purest form. That means cold pressed juices made fresh daily from organic, high quality produce, free of any chemicals or additives. Cold pressed juices give you all the minerals, vitamins and enzymes from your fruit without the fiber, making them much easier for your body to take in all the nutritional goodness it needs. As if getting all your fruit and vegetables in an easy, sustainable and ethically sourced form wasn't enough, Juice Brothers' products are also incredibly delicious. Order bowls or individual juices from Deliveroo, or order a one-, three-, or five-day cleanse from the Juice Brothers for delivery in two days. Its cleanses come in three different options so you can pick what's best for your body based on your juicing experience and cleansing needs.
See this restaurant on our

search page >
Vegabond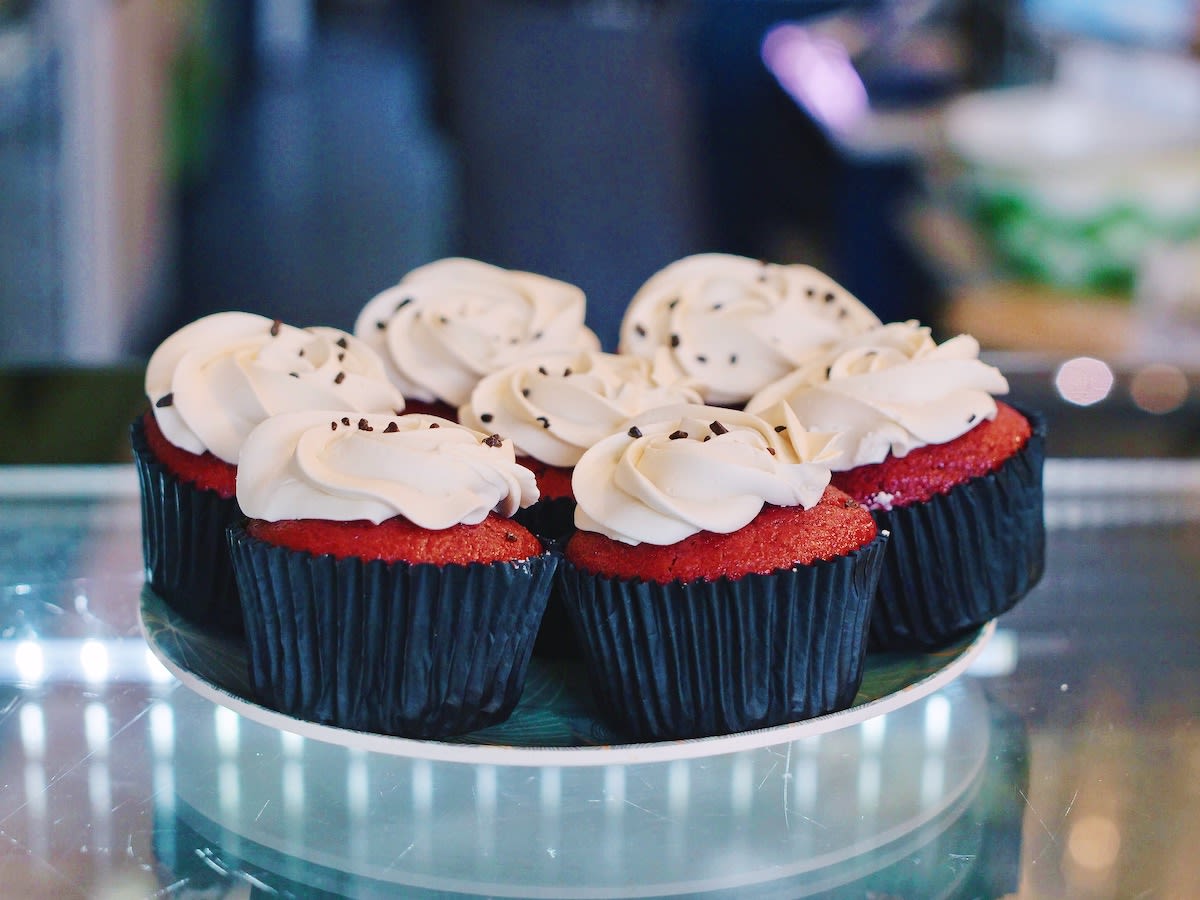 Criminologist-turned-restaurant-owner Babet led a plant-based lifestyle long before she started the plant-based café, deli, and store, Vegabond. Its vegan menu, designed to cater to many specialized dining needs, is built on a simple but powerful idea: you can create the change you want to see, one delicious, healthy, and sustainable meal at a time. With this philosophy at its core, Vegabond's menu embodies the fullness of vegan dining by incorporating flavors from around the world in creative ways. Take away from its De Clercqstraat location or order delivery from Monday to Saturday between 9:00 and 19:00, and on Sundays between 11:00 and 18:00. And trust us— don't forget to add dessert.
See this restaurant on our

search page >
Rethink what makes restaurants great.
Dine consciously with core values that make meals meaningful. Learn more >